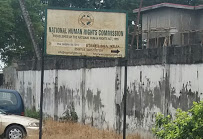 Address:
20 Olorunnimbe Street Wemabod Estate, Adeniyi Jones Avenue, Ikeja
Local Government area
Ikeja
Description
The National Human Rights Commission of Nigeria ("the NHRC") was Establishedby the National Human Rights Commission (Amendment) Act, 1995, as amended by the NHRC Act, 2010. The Commission serves as an extra-judicial mechanism which safeguaRoad s the human rights of the Nigerian population.. It monitors human rights in Nigeria, assiStreet s victims of human rights violations, and helps in the formulation of the Nigerian Federal Government's policies on human rights.