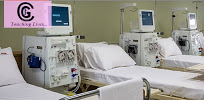 Address:
16-24 Ikoyi, Obalende, Lagos
Description
Famous for its Rich Children Centred Medical Sercvices which Include:
1) Preventive paediatric care – Including all aspects of immunization, routine consultations and inveStreet igation for different age groups and counselling.
2) Pediatric treatment and rehabilitation – Including treatment of diseases in neonatology, neurology, haematology, caRoad iology and non-surgical ENT and cheStreet and general pediatrics, including allergies.
3) Adolescent care – Involving extensive counselling
NB: They also provide medical services for adult.